ABOUT
Christina Kliphardt is a wedding and portrait photographer based out of Kennewick, Wa. As a wedding, family, senior, maternity and lifestyle photographer in the Tri-Cites Christina feels "overly blessed to capture so many special moments in her clients lives that allow her to become more then a photographer but a friend."
GET TO KNOW ME
Isn't it interesting how life's journey with its seasons, detours, twists and turns can unexpectedly bring people together and build them into our lives for the rest of time? Often our journeys are rushed, as if we are racing toward an imaginary finish line. Moments are fleeting and before we know it, engagement announcements are anniversary celebrations and the sweet sound of tiny feet become the cheers of high school seniors shedding their caps and gowns as they run toward a future all their own.
Hello and welcome to Christina Kliphardt Photography. Thank you for considering me to be a part of your life's special events. You'd probably like to know a little about my story and why I do what I do before we venture out together. Here's a little bit about me and my little corner of this great, big world.
I grew up in the small town of Othello, WA. The community was closely connected and everybody knew everyone's name. Coming across old images brings back my fondest memories with family and friends. In an instant, I'm transported back in time and I get to relive the laughter and the joy I'd shared with my loved ones. Whether it was baking with Mom, walking the dogs down an old dirt road, getting our hands dirty in the fields with Dad, or building cardboard houses with my sisters, I cherish these illustrations of our history.
My family is my inspiration and they are also some of my greatest influences. My mom's legacy inspires me daily. She was a talented artist and a faithful soul. Her work was always humbly signed "Talent given by God." Now I'm a mother and an artist as well and, just like my mom, I want to always give Him the credit that's due. I have been blessed with a talent given by God that intertwines with the artist in me. It's not always easy and it's not always perfect but, I always give it my best! Then there's my daughter, Hailey. She is my favorite accomplishment. She influences everything I do. The love I have for her carries over into my work and drives me to capture the moments that reflect who you and your family are to each other. My dream is for you to look back on your photos, over and over again, and relive your fondest memories too.
So, how'd I get to here? To photography? To being woven in to your life's tapestry? Well, it's been an adventure! For so long I'd been too concerned with impressing the world with my accomplishments. For years, I'd been pursuing a career in the medical field. While that satisfied my hunger for learning and promised a lucrative future, it did absolutely nothing for my creative side. I desperately needed to feed that part of myself, that girl who just wants to run and play in a field of daisies. That girl was hungry! I found myself a bit lost and confused. I committed to relying on my faith for strength and guidance. Then, with only one quarter left before graduation, a few unexpected events helped me to see that I just needed to do what I loved and the rest would fall into place. Now, years later, here I am. Sharing some of life's most precious events with people who I might otherwise have never met!
These days I find the accomplishments in relationships. Clients become friends and I become a trusted ally in creating their memories. While I've been doing many styles of photography, my passion is in Weddings and Family. A wedding is the beginning of a new chapter in a couples lives. It's the moment they commit to be on the adventure of life together, through thick and thin. It is so exciting to be a part of but, the greatest reward is I get to witness and participate in the start of a new family. Then, I get to watch them grow. I get to be there to add to that history with pictures that will hang on the walls of their home for years to come. Knowing that I am capturing irreplaceable pieces of your story is a humbling gift.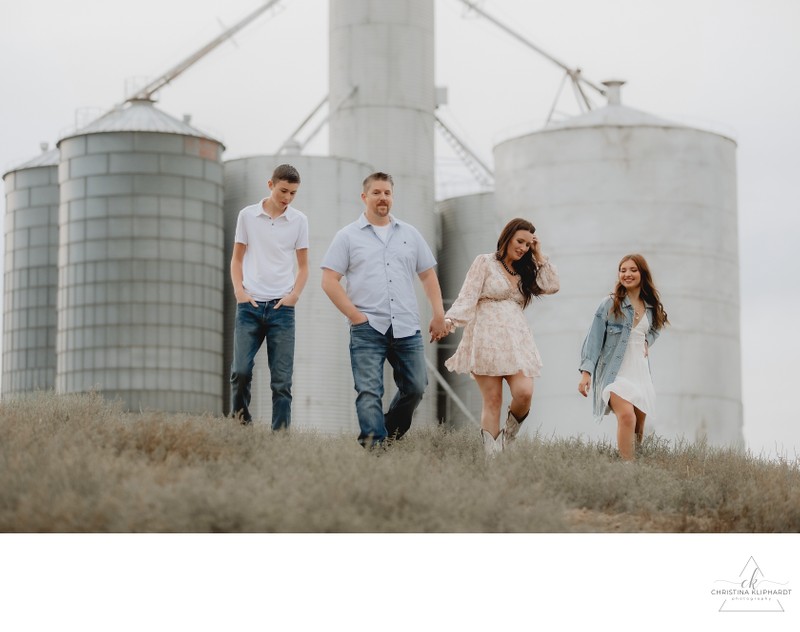 MY STYLE
All of the experiences I've shared with you consistently define my documentary, organic style. I like to keep things as tangible as possible and use enhancements to share the mood without taking away from the integrity of the image.
As you look through my galleries you'll see the influences of my small town past, of strong family values, timeless beauty and tradition. You'll see immeasurable love, hope, joy, and laughter. We're gonna have fun. We're gonna make memories. And, I am honored and committed to our collaboration. Thank you for choosing me!


FUN FACTS
When I was just five years old, my three sisters and I were adopted into a beautiful family with six siblings and two wonderful parents.
I played piano as a kid but, nowadays, I can only remember one song. Unfortunately, I cannot remember the songs name!
Who was a high school track star? This girl! Okay, maybe not a STAR but, I do love to run and I was pretty great!
I've always enjoyed drawing and I'm good at it. It's a hobby I'd love to pick up again. Artists… you know, we're gonna find a creative outlet (or two or three) one way or another!
I want to own a wedding venue. Someplace out in the country. Classic but, with farmhouse charm, and a renovated barn.
Lemonheads. I have a great affection for Lemonheads. Perhaps an obsession. Especially the large ones. I really, really love them. A lot.
I also crave learning! The History Channel is a must in our home. There's always something interesting and new. Knowledge is power, right?
Hot Cocoa and a good snow storm warm my heart. Sorry sun lovers!
I have great compassion for the old, the weak, and the homeless. I give without question. I don't care about the story behind why they need help. I just wish I could give more!
I could spend hours upon hours shopping in vintage stores. Kind of ties into my love for history now that I think about it! There's just something magnificent about a piece with a story and taking that piece and including it in our own lives.
My fourteen year old daughter is my twin. Even though she prefers not to model for me, she does! She plays the piano and draws too. Hmmmmm… she hasn't noticed quite yet but, she's a lot like me!
I heart a good adventure! FORD trucks, back roads, bonfires, starry nights and moonlit skies… Yep, that's it! Let's go!